INTRODUCTION
"This planet can be thought of as a garden." This was the key concept of Planetary Garden, an exhibition in Paris by the French gardener Gilles Clément that captivated 300,000 visitors. Known for being the creator of the André Citroën Park and Quai Branly Museum Garden, the philosophy that informs his creations are also in the spotlight.

Clément visited Japan for the first time in the winter of 2015 for a lecture series at the Research Institute for Humanity and Nature. This series was split into three parts, each of which focused on his three central concepts: The Garden in Movement, The Planetary Garden and The Third Landscape.

For example, looking at The Garden in Movement, grass and trees are caused to move with the transformations of nature, bringing about the formation of a garden through the dynamism of change. Is this nature or culture? Considered as something attached closely to nature, as shaped, as continuously changing, the garden encourages us to reconsider the conventional, bisectional distinction that separates nature and culture.

In his exploration of Japan, Clément is guided by Tomoki Yamauchi, who translated his book The Garden in Movement into Japanese, and Emmanuel Marès, a researcher in history of Japanese gardens. With Tomoki and Emmanuel, Clément visits Japan's gardens and deepens his relations with Japan's gardeners. What will he find in Japanese nature and culture?

The origins of The Garden in Movement can be found in Clément's own garden. Walking through an expansive garden facing the Creuse River, Clément shows us to places he has labeled 'Valley Garden' or 'The Meadow.' While it is of course a richly varied garden, we can also learn much from how he lives his life; solar panels on his self-built house to save energy, meals of vegetables harvested from his own field. Everything has started from this place.

To do as much as possible with, as little as possible against. this is Clément's fundamental approach as a gardener. Respecting this creed, this ethnographic film records Clément in long shot as he tours Japan and shows us his own garden. Recording Clément's behavior in a long take, the cinematographer becomes the camera and through this synchronizes breath with the camera's object, prompting Clément's being to come in possession of a new, shining brilliance.
Translated from Japanese by Daniel Milne

MESSAGE FROM GILLES CLÉMENT
I have very powerful memories from the time I was in Japan. I was astonished and filled with wonder. There, I stopped trying to find comparisons with the different ways of gardening I had seen around the world because everything looked new, strange and perfectly accomplished: it was a total immersion in an unknown world.

I hastened to forget what I had learned in the books and through the images of Japan circulating around the world, I was living the moment. I liked this unknown world. I found myself at home. Not as a gardener (I haven't experienced Japanese gardening) but as a human facing nature.

The presence of a Shinto altar in a Buddhist garden confirmed the idea that the ancestral animism of human societies will not collapse under the weight of reason and this was a relief to me.

The landscape considered through a partition between the near and the far – satoyama, okuyama – giving a place for the human settlement and for the spirits, reminded me of the "fadhy" spaces in Madagasacar or the "leyaks" in Bali. Territories where nature peopled with spirits and free creatures can express themselves. Here it is tanukis, wild boar and deer crossing the road only when the green light turns on in Nara.
The white lawn of the gardens at the end of winter will become green while in Europe it will turn yellow under the sun. It confirmed my idea that the English green grass is not the only model suitable for gardens.

The natural presence of gardeners, their nobility, their know-how, their self-confidence and the accuracy of their role show that gardening in Japan is not the duty of technical experts for simple "cleaning" but a skillful work in which one needs to know about the life of the trees and the grass.

During that time, Kenichi was filming. Discreet and smiling, respecting all my movements. It seemed to me he was trying to pick up everything my astonished eyes were lingering on during our visits in Japan, and what my hand were busy with in my own garden, the Valley.

Of his presence, I keep a warm memory. He did not come to take images and to leave them to the whim of cyberspace, he was here to report: this is the art of narrative poetry while keeping the feet on the ground.
20th May, 2016
Gilles Clément
Translated from French by Emmanuel Marès

MESSAGE FROM DIRECTOR
I disembarked alone at San Sebastián Station after about three hours of being jolted around on a train heading south from Paris' Austerlitz Station. It was just before noon. The station was small and rural with almost no one in sight. Grey leaden clouds hang low in the sky, chilled by drizzle, carrying the minimum of camera gear in my camera pack, on reflection I must have felt slightly anxious as I nervously looked around. Fortunately, I was soon able to find Clément smiling far away as he stood beside a beaten up old car. It had been around half a year since I met him at a lecture the first time he had visited Japan.

Clément's driving was, unexpectedly a little reckless, but then again I had never imagined him driving before. He drove directly towards home without stalling. While driving, he talked about the things that had caught his interest recently. He had found a lost boot in his garden that was thickly covered with overgrown plants. He told of how he took a liking to the boot and had decorated his entrance with it. Could it be seen as a masterpiece fusing human and plant design?

As I gazed at the view that continuously swerved past on left and right, I lost track of where we were driving. After a while, without even noticing it we had wondered on to a small road surrounded by a forest. The car bumped around on a slightly rough road and we eventually arrived at Clément's home. The Garden in Movement spread out in front of us. Entering my vision first were the tall Katsura tree that soared above the Valley Garden and South American and other plants covered in giant leaves out of proportion with the garden. I wondered where the apple tree Clément had introduced in his lecture in Japan was, which continued to grow after the trunk had fallen over, and searched for the giant hogweed that was a symbol of the start of The Garden in Movement.

With stonewalls covered in vines, the house was picturesque and seemed to merge into the garden, while at the same time resting on an exceptionally impressive expanse of land. On the first floor were the kitchen, dining table and a living room with an old fireplace, the firewood for which was piled up on one wall next to the entrance. Going up to the second floor, I was guided to Clément's office, which had a desk and sofa, and told that I could stay here tonight if I wanted. The Internet router is usually switched off in order not to waste Clément's energy, so I was told that I would need to turn it on if I wanted to use the Internet. Anyhow, I began setting up my camera so I could soon start filming. Outside, wind gently blew raindrops up against the room's large glass window.

Soon after arriving, Clément told me that the playwright Nadège would be visiting to collect material for her own work. By chance, she ended up briefly appearing in the film. Many people visit his garden throughout the year. While waiting for Nadège to arrive, Clément began making us lunch. It was an omelet-like local dish primarily made of ingredients from a vegetable plot in a corner of his garden. I had begun taking footage by this time, and he generously told me that I could film whatever I liked. Impolitely, I even filmed his bedroom, bath and toilet. Suddenly, he asked, would you like me to shown you around the garden? Looking suspiciously at the rain glimmering in the sky, and lacking adequate waterproofing for my equipment, I hurriedly followed behind.
At this time, I wasn't sure how I would compose the film, but I endeavored to shoot the time I spent with Clément as much as possible in long shot. Eventually, I shot about one and a half hours of him showing me carefully around the garden. In contrast to footage taken in Japan, in which he almost looked reserved, Clément walked energetically around the garden and spoke extremely eloquently and confidently. Even though he must have shown a wide variety of visitors around this garden on numerous occasions, I was impressed by how much he seemed to enjoy it. As I probably only pressed the record button about twice during this time, I was able to continue filming as I walked around the garden. This was the footage that made up the central structure of the film.

Though it was the middle of August when I visited Clément's garden, rainy nights were extremely cold, and he began lighting the fireplace. The crackling sound of wood on the fire was relaxing and pleasant. During the night, I made an effort to not turn on the camera. I think that one advantage of working on a project alone is that you can become more intimate with the person you are filming, however, at the same time conversation also becomes more difficult. As a result, you have to carefully follow your judgment about when to turn off the camera. I wanted to put down the camera and have a good talk with him.

Clément asked me what type of footage I want to take. I feel that film seems to flow with its own unique time. This is different to the time we experience in our everyday life. In great cinematography, we feel that we are living in the time flow of that film. This certainly doesn't involve simply abandoning ourselves, but is a time-flow that we choose, feel and breath. Through my films, I want to bring about this living flow of time.

We also talked about when Clément visited Japan, the town that he was born and grew up in, and about the issue of war and energy. Now over 70 years of age, he talked of how he wants to reduce his workload and actively take on projects that he thinks are important. However, he was pleased to be able to spend time to help me. As we talked, it got late, and around when I started thinking of going to bed I was surprised by how late it was. Without having notice it, the rain had stopped.

The next morning, Clément had to go to Geneva, and the plan was for me to go back with him to Paris. As I took footage of different parts of the garden while the sun came up, I heard his voice behind me. I wanted to have more time. I wanted to film more. The Garden in Movement. Always receiving people with a multiplicity of expressions, I promised myself I would return. As I said farewell to the garden I asked Clément to let me visit again. Valuing harmony with animals, plants and insects, his garden was a treasure-trove of ideas for the intellect. However, the feelings brought about by visiting his garden were, how can I put it, more direct, something that pierced the heart. I wish, one day I will be able to record how he lives his life and the ways in which the expressions of his garden change. And then, on another occasion, I would like to show this film to everyone and together breath the time-flow of film.
Kenichi Sawazaki
Artist / Film Director
Translated from Japanese by Daniel Milne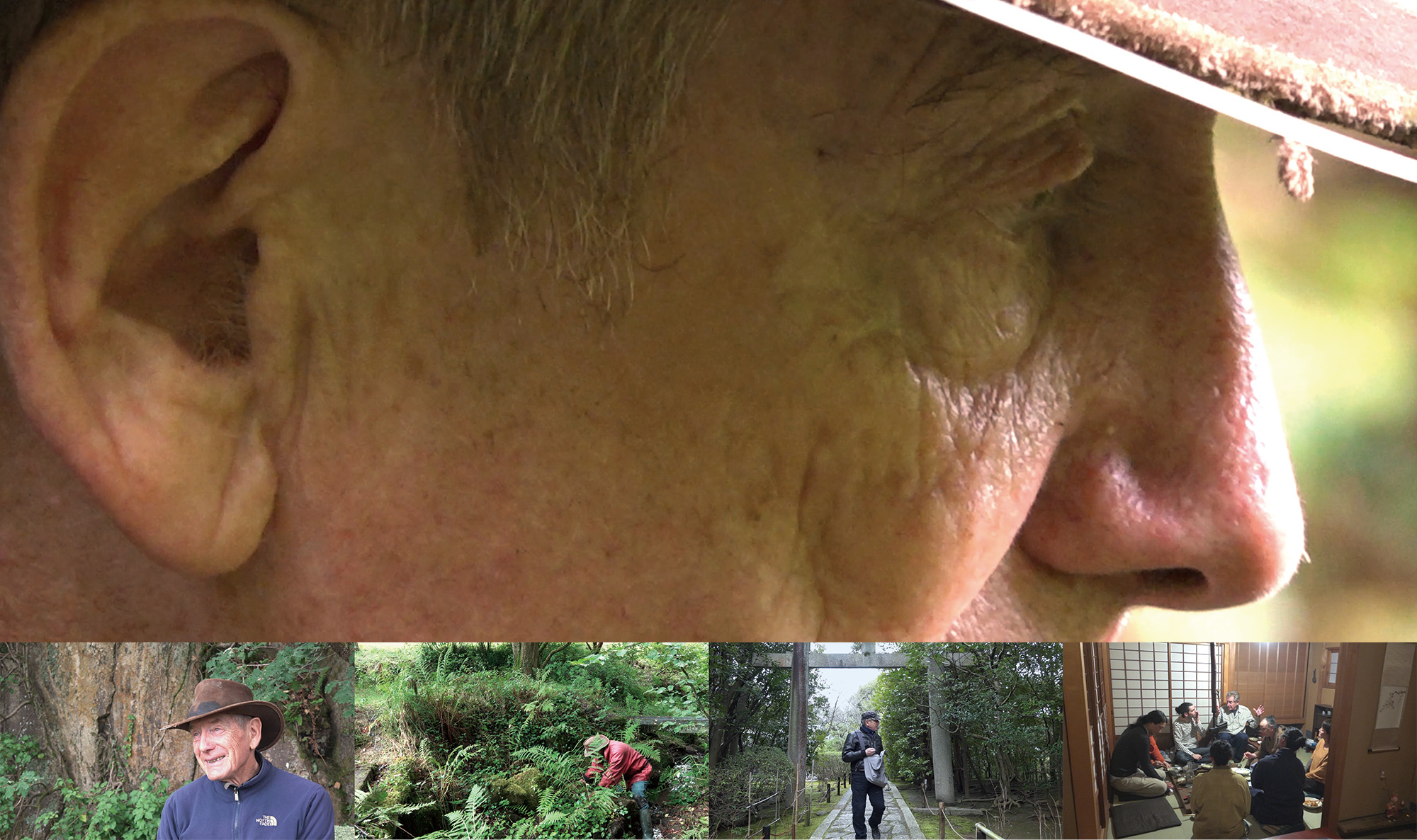 Cast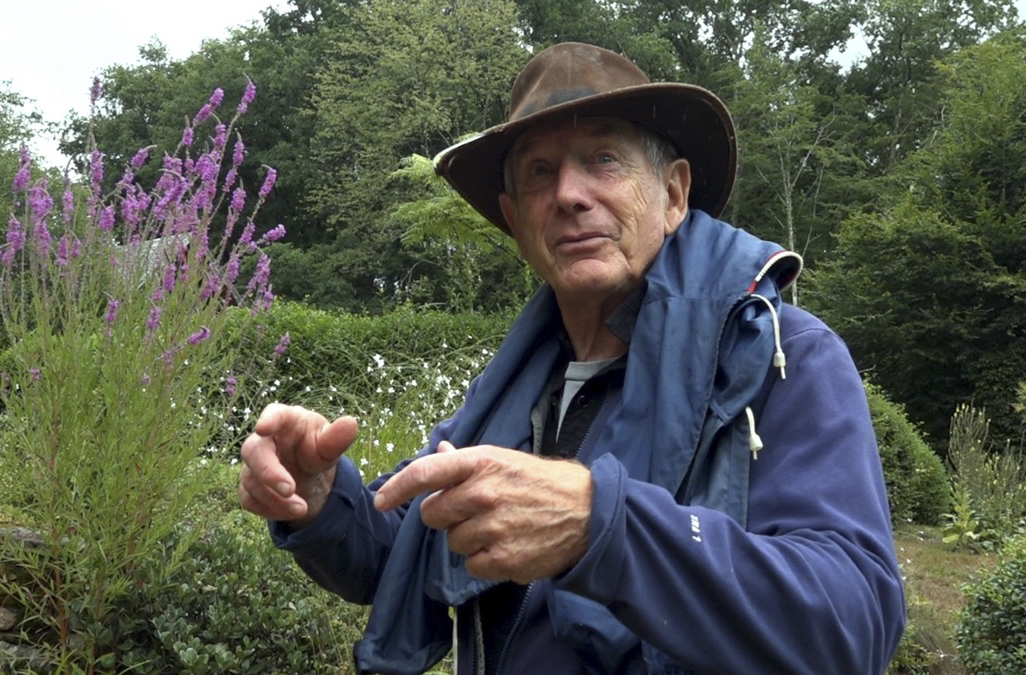 Gilles Clément
Born in 1943. Gardener, landscape designer, botanist, writer… Gilles Clément is a man of many faces. Connoisseur of plants, animals and all the living being in general, he discovered a new species of butterfly in Cameroun (Bunaeopsis clementi). His way of thinking the garden, respecting the biodiversity and the mouvement of plants is totally new and unique. His main works: André Citroën Park in Paris (1986-94), Henri Matisse Park in Lille (1990-95), Domaine du Rayol in Rayol-Canadel-sur-Mer (1989-1994), The Garden of the Musée du Quai Branly (2005), etc. His main books: Le jardin en mouvement (1991), Le jardin planétaire (1999), Manifeste du tiers-paysage (2004), Thomas et le Voyageur (1997), etc.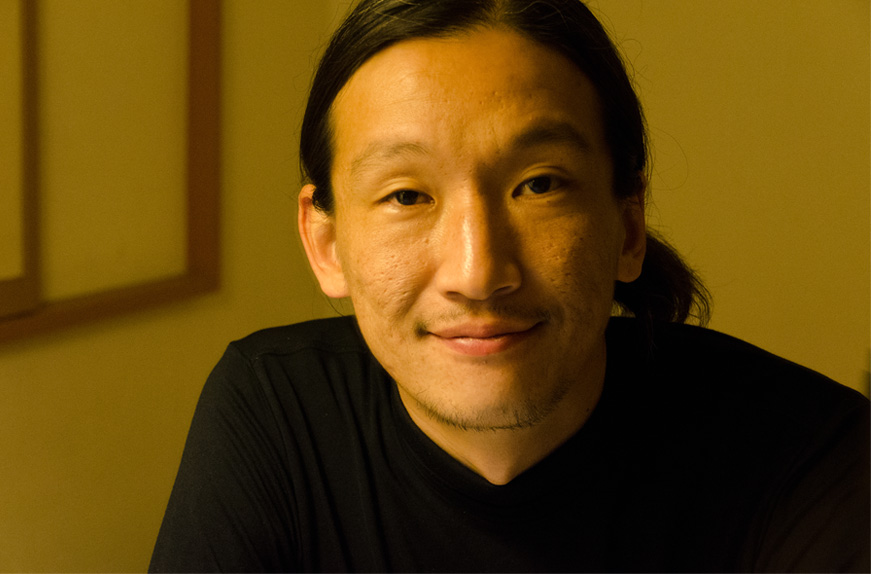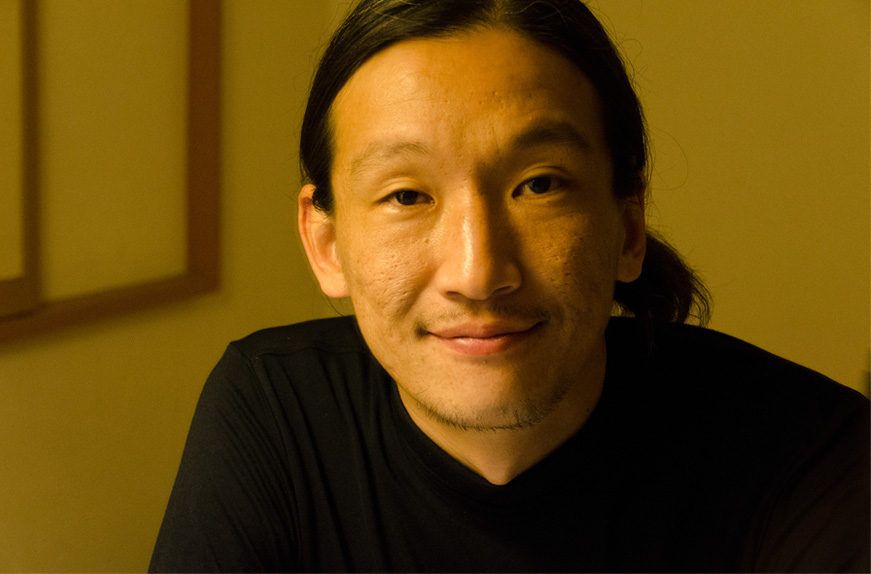 Tomoki Yamauchi
Born in 1978. Associate professor of Kyoto University of Education/ Gardener. He is carrying out research about the way of thinking and practice contemporary European garden and landscape architecture through the analysis of modern garden history. His main works: 'Deer and Children Garden' (Otsu, 2013-14) and 'Eight Herbs Garden' (Kyoto, 2012-16) and exhibitions: 'Micro Landscape in Movement' (Yebisu International Festival for Art and Alternative Visions, 2016). He translated Gilles Clément's Le jardin en mouvement (MISUZU shobo, 2015) into Japanese.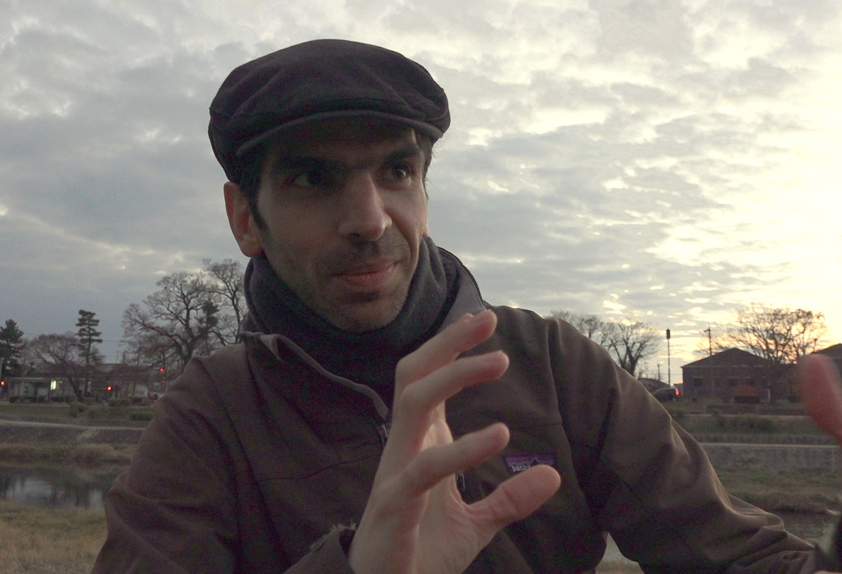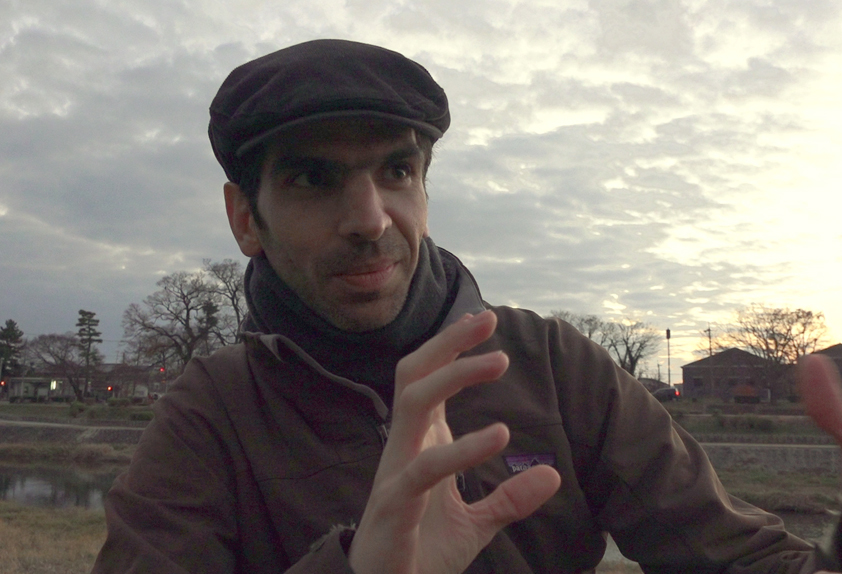 Emmanuel Marès
Born in 1978. Ph.D in Japanese architecture history. Associate professor of Kyoto Sangyo University. He is currently pursuing his researchs in history of Japanese gardens. Working also for the development of French-Japanese cultural exchanges, he organised Gilles Clément's visit to Japan in February 2015. As an editor, he published The Great Masters of Gardens of Kyoto, a series of bilingual books (Japanese/English). Co-author of the Vocabulaire de la spatialité japonaise, CNRS éditions (French Architecture Academy Award).
Director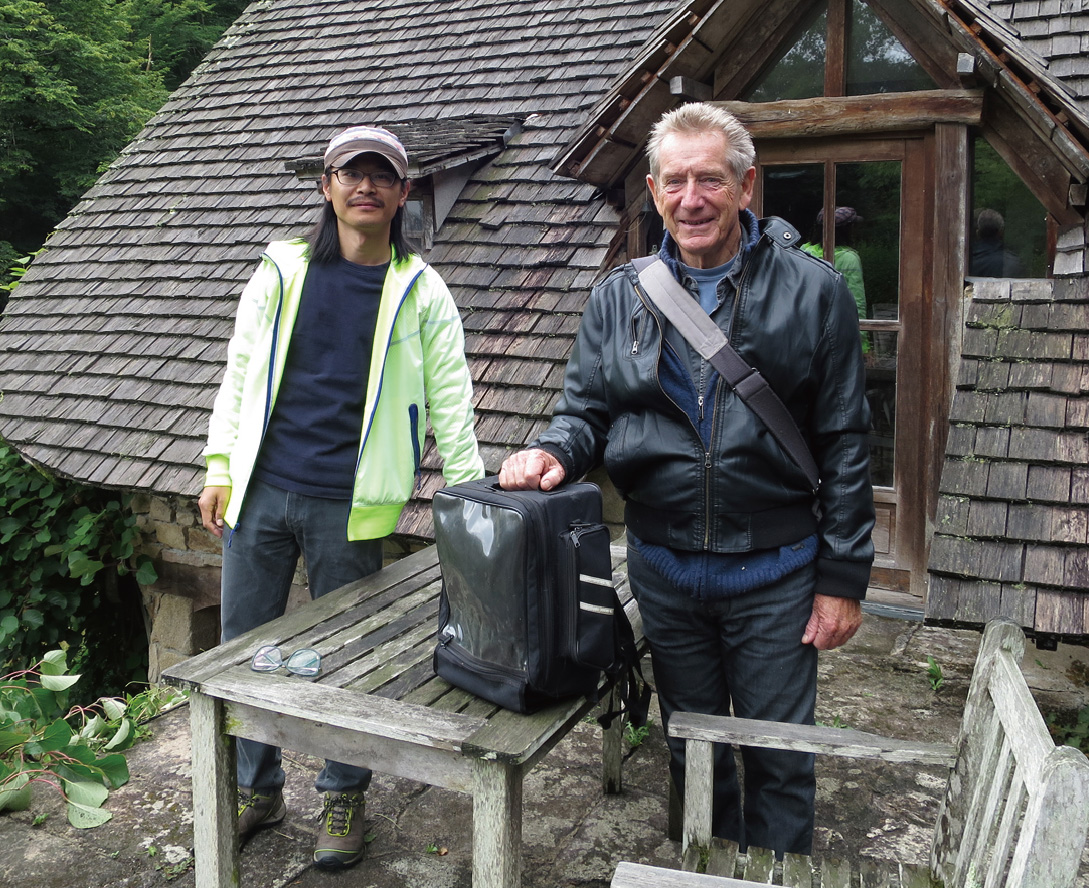 Kenichi Sawazaki
Born in 1978, based in Kyoto/Kochi in Japan. He is a Japanese contemporary artist and a film director, and earned his PhD in Concept and Media Planning, Kyoto City University of Arts. Also, he is the representative director of "Living Montage" which is a platform for the interdisciplinary use of visual media. In Europe, Asia and Africa, he accompanies researchers such as anthropologists and agronomists on their field research, exploring ways of using video and photographic media to create new discoveries in relation to others. 
One of his most recent works is the variable video work #manazashi (124 min, 2021, Selected for the Feature Length Competition of the Tokyo Documentary Film Festival), Pero FUKUDA / Kenichi SAWAZAKI / Sangsun BAE Images don't or do they? Talk to each other (Tosei Kyoto Gallery, 2021, KYOTOGRAPHIE KG+ Official Program) and the documentary film The Garden in Movement (85min, 2016, Yebisu International Festival for Art & Alternative Visions 2016 Premiere Screening) etc.
Cast : Gilles Clément, Emmanuel Marès, Tomoki Yamauchi
Directed, photographed, edited and produced by : Kenichi Sawazaki
Production and subtitles : Emmanuel Marès
Colorist : Masae Kariya | Assistant camera : Yushi Yanohara | Sound mixing : Masaya Kuranuki
Adviser : Tomoki Yamauchi | Flyer/Catalog Design : Shinichi Wade
Co-produced by : Research Institute for Humanity and Nature, MISUZU Shobo, Ltd.

※1 Gilles Clément, Le Jardin en Mouvement, Sens & Tonka, 2007/2008
Translated from french by Emmanuel Marès

2016 / France-Japan / 85 minutes / HD / French, English, Japanese

お問い合わせ:info.livingmontageアットマークgmail.com